Signs To Download
[ Contents ] [ Articles ] [ Members ] Resources ] [Sponsors ]
[ Digital Jury Services for Artists ] [ Join the Forum ]
[ Support the Forum ] [ Consulting ]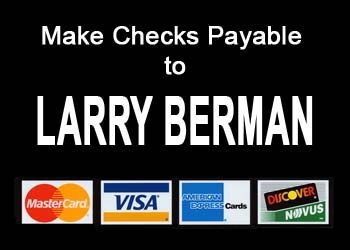 Desk sign is 2.5x3.5 inches at 300 pixels per inch
I made this "Make Checks Payable" sign for my desk. The text layer is active so you can easily change your name for mine. The credit card logos can be deleted or selected and moved around easily. I tape it down on the edges where the people fill out their check and it saves me much time and energy at a busy show. My old sign was laminated and remained there for years. Now that I'm making my own on the computer, I can make multiples and replace them as needed.
To delete or move them, set your background color to black. With the rectangular marquis tool select the logo and press delete. Then do a selection on another logo and copy and paste. That will enable you to move it around. Select the area where it was previously and press delete. It also helps if you set up a grid for exact placement. The shortcut for a grid is CTRL+ALT+Quote.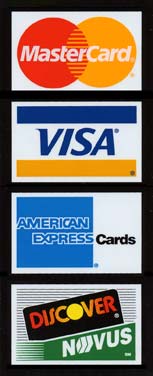 Credit Card vertical sign is 5.2x2.2 inches at 300 pixels per inch
I've found that the best way to print these signs is as a glossy 8x10 Frontier print. I create multiple versions on the 8x10 canvas leaving room at the edge. For the $1.99 per print, it saves that in inkjet expenses. If you're going to use inkjet, I recommend printing on full size (8.5x11) Avery Labels #8165.
Currently I make my signs on the full size Avery labels and mount them on fome core after cutting them to size. Then I shrink warp using heavy film.