Self Promotion
[ Contents ] [ Articles ] [ Members ] Resources ] [Sponsors ]
[ Digital Jury Services for Artists ] [ Join the Forum ]
[ Support the Forum ] [ Consulting ]
Self Promotion and your Artist Statement or Booth Sign
Examples of using published material to your advantage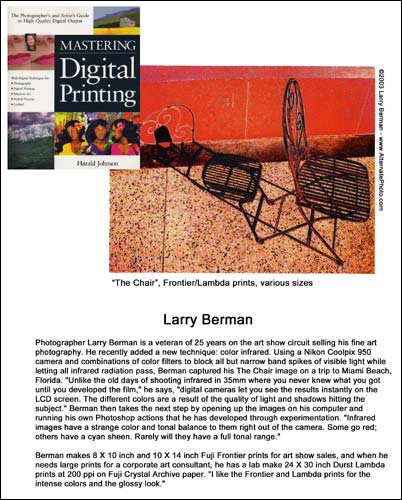 My booth sign matted and framed to match the framing used in the actual piece.
I use the page from (forum member) Harald Johnson's book on Mastering Digital Printing for my artist statement and hang it directly below the actual 22x28 framed photograph of the chair used the page. I use this whenever I hang the color infrared work that I've used to apply to shows with this year.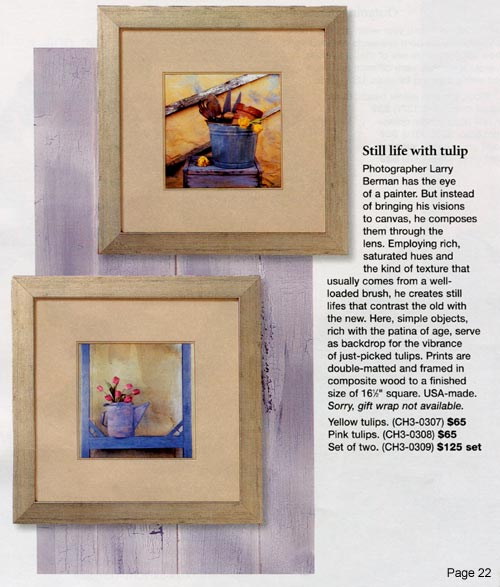 I've used the description of my photography from the Coldwater Creek catalog as my artist statement when I jury with, and hang my still lifes. I also have the banner I created on the home page of my fine art web site. It's linked to a page with the Coldwater Creek information and then leads to my still life galleries to see more similar designs.

Photographer Larry Berman has the eye of a painter. But instead of bringing his visions to canvas, he composes them through the lens. Employing rich, saturated hues and the kind of texture that usually comes from a well loaded brush, he creates still lifes that contrast the old with the new. Here, simple objects, rich with the patina of age, serve as backdrop for the vibrance of just picked tulips.