E-mail Collection Form
[ Contents ] [ Articles ] [ Members ] Resources ] [Sponsors ]
[ Digital Jury Services for Artists ] [ Join the Forum ]
[ Support the Forum ] [ Consulting ]
We called this the "Ann Arbor Opportunity" Collect the names and e-mail addresses of your potential web site customers, even if you don't have a web site yet. When your web site is finished, you'll be able to notify hundreds of people and start selling from the first day.
*Tip: be sure to have an e-mail collection form on your web site to convert those street addresses to e-mail addresses when you send out postcards notifying your existing customers of your new web site.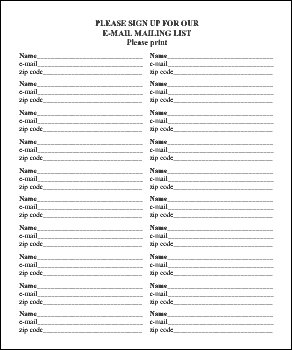 Click on the form to download the PDF version
Each 8 1/2 x 11 sheet has space for 20 contacts
(We recommend taking zip codes so your e-mail can be location targeted -
not send an e-mail to someone in California about a show in New York)
download our e-mail form as a Microsoft Word Doc
If you want to personalized it with your name or web site URL
or download our e-mail form as a PDF file
Click here if you need Adobe's Acrobat Reader
If anybody has a question or has problems with these files e-mail me.