Clean Jury Slides Using Photoshop 7
[ Contents ] [ Articles ] [ Members ] Resources ] [Sponsors ]
[ Digital Jury Services for Artists ] [ Join the Forum ]
[ Support the Forum ] [ Consulting ]
Cleaning your dirty jury slides for your web site or to convert back into jury slides again using Photoshop 7's new Healing Brush Tool.
I'm not going to make this a tutorial but just to give you a set of before and after pictures so you can understand the possibilities. One of the most exciting new tools in Photoshop 7 is the Healing Brush which will change portrait retouching. It's also a great tool for eliminating the dust and dirt from your old slides. As you can see from the example pictures, it's even possible to use on graduated background.
We wrote a good article on Photoshop 7's new features.
A tutorial on Photoshop 7's new Healing Brush Tool can be downloaded from Katrin Eismann's digital retouching web site.
Before and after example pictures
Original scan of a jury slide
showing dust and dirt and a vertical line down the middle

Cleaned up using Photoshop 7's
new Healing Brush Tool and final touch ups with the Cloning Tool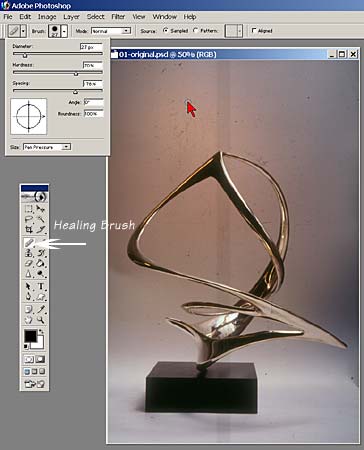 The red arrow is my custom windows cursor and shows the position of the Healing Brush cursor.
Your finished files, if scanned and prepared properly can be used for the web, or even converted back into slides.
Artwork photographs property of Robbie Robins.